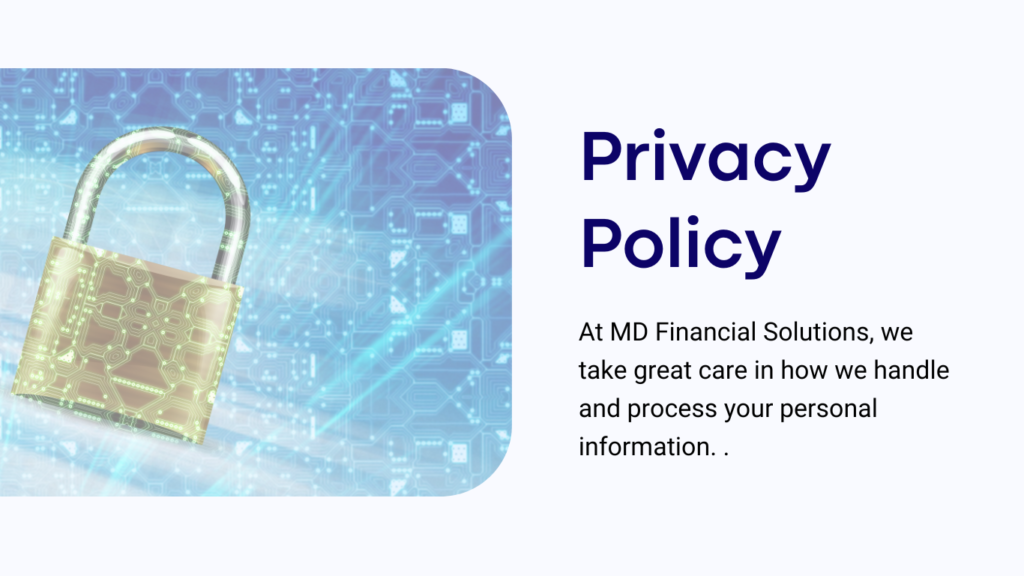 When you are using our website, you are trusting us with your information. This Privacy Policy is meant to help you understand what information we collect, why we collect it, and how you can manage and delete your information.
As you are using our site, we collect information about the browsers and devices you use to access MD Financial Solutions, which helps us provide features like automatic product updates. We also collect information about your location when you use our website, which helps identify the location of our users.
When you subscribe to MD Financial Solutions, you are required to provide us with personal information like your your full name and phone number. Our site also requires that you provide us your email address to receive updates about our services.
What personal data do you collect and why do you collect it?
We collect information to provide better services to all of our users. The information MD Financial Solutions collects and how that information is used, depends on how you use our site and how you manage your privacy controls. Your information is used to ensure our site is working as intended.
Cookies
This site may use cookies to enhance your online experience by making it easier for you to navigate through our website. The use of cookies can identify a user's computer, mobile phone, or tablet to record the user's preferences and other data about the user's visit on this site. Your web browser may enable you to disable cookies, however, certain services may not function correctly when cookies are disabled causing your experience on our website to be hindered.
These websites may collect data about you, use cookies, embed additional third-party tracking, and monitor your interaction with that embedded content, including tracking your interaction with the embedded content if you have an account and are logged in to that website.
Who do you share my data with?
We do not share your personal information with companies, organizations, or individuals outside of MD Financial Solutions without your consent.
How long do my retain the data?
For users that subscribe on our website, we store the personal information provided in our agency management system.
What rights do I have over my data?
If you have filled out a form on this site,  you can request that we erase any personal data we held, this does not include any data we are obliged to keep for administrative, legal, and/ or security purposes.